Originally Posted On:
August 28, 2008
Well like the Prophet Muhammad once said
"Death is closer to us than the strap of the sandal."
Unfortunately I'm sure many of you have heard of the death of Dr. Dre's 20 year old son Andre Young Jr on Saturday August 23. I actually didn't hear about it until Tuesday. Indeed what sad news. I hope all ya'll hip hop & Dr. Dre fans send a little prayer to him at this time of sadness.
Rest In Peace
Andre Young Jr.
I have some mixes from a Denver DJ named
DJ Bedz
(
http://www.djbedz.com/
) aka White Shadow. Although I usually don't post mixes by industry commericial DJ's. Bedz does have some decent mixes out there. I never heard of DJ Bedz before I found these mixes on
S.O.U.L.'s
blog. These two mixes are of Public Enemy joints. You gotta respect anyone who mixes PE joints. PE fans and conscious heads should enjoy it.
DJ Bedz
War @ 33 1/3 The Mixtape Volume 1 (2007)[82 MB]


01. War @ 33 1/3 Intro / Here We Go Again
02. Brothers Gonna Work It Out
03. Self Destruction
04. Shake Your Booty
05. Cold Lampin' With Flavor
06. Lost At Birth
07. Kevorkian
08. Welcome To The Terrordome
09. 1 Million Bottlebags
10. B Side Wins Again
11. Col Leepin'
12. Revolutionary Generation
13. Whole Lotta Love Goin' On In The Middle Of Hell
14. Power To The People
15. Burn Hollywood Burn
16. Bring The Noise
17. Bring The Noise (Remix)
18. Can't Do Nothin' For Ya Man
19. Caught, Can I Get A Witness?
20. Who Stole The Soul?
21. Race Against Time
22. War @ 33 1/3
23. Endangered Species (Tales From The Darkside)
24. They Call Me Flavor
25. Party For Your Right To Fight
26. Move!
27. Mklvfkwr
28. Nighttrain
29. Fight The Power
30. Night Of The Living Baseheads
31. A Letter To The New York Post
32. Too Much Posse
33. 911 Is A Joke
34. Livin' In A Zoo
35. Rebirth Of A Nation
36. Rebirth
37. You're Gonna Get Yours
38. Harder Than You Think
39. Hazy Shade Of Criminal
40. What Side You On?
41. Can't Trust It
42. Revolverlution
43. Terminator X To The Edge Of Panic
44. Buck Whylin'
45. Fear Of A Black Planet
46. Gott Do What I Gotta Do
47. Prophets Of Rage

http://www.megaupload.com/?d=291WFM0T


DJ Bedz
War @ 33 1/3 The Mixtape Volume 2 (2008

) [81 MB]







01. War At 33.3 DJ Bedz Intro - Here We Go Again
02. Public Enemy No. 1
03. Rebel Without A Pause
04. What What
05. Louder Than A Bomb
06. Gotta Give The Peeps What They Need
07. Timebomb
08. Don't Believe The Hype
09. Bring That Beat Back
10. Game Face
11. Pollywannacracka
12. How To Kill A Radio Consultant
13. Do You Wanna Go Our Way
14. She Watch Channel Zero
15. Yo Bum Rush The Show
16. See Something Say Something
17. He Got Game
18. New Whirl Order
19. How Do You Sell A Soul To A Soulless People That Sold Their Soul
20. What You Need Is Jesus
21. Give It Up
22. No
23. Sophisticated Bitch
24. I'm Only Out For One Thang
25. Super Agent
26. If I Gave You Soul (What Would You Do With It)
27. Black Steel In The Hour Of Chaos
28. Makes You Blind
29. Resurrection
30. Sex Drugs And Violence
31. Shut Em Down
32. Shut Em Down (Remix)
33. Long And Whining Road
34. Air Hoodlum
35. Black Is Back
36. Death Of A Carjacka
37. Miuzi Weights A Ton
38. Mistachuck
39. World Tour Sessions
40. By The Time I Get To Arizona
41. Free Big Willie
42. Son Of A Bush
43. Vh1 Behind The Music Part II
44. Chuck D On Space Ghost

http://www.megaupload.com/?d=3CPMEE10
Right here is a mix of Talib Kweli tunes by Bedz. Talib fans should enjoy it and maybe make so fans out of peeps who are not into Talib Kweli yet. You can't really go wrong with Talib Kweli..true school Hip Hop.
DJ Bedz
Kwality Kontrol (2007) [97 MB]


1. Kwality kontrol intro - dj bedz & talib kweli
2. Hot thing - talib kweli
3. Hot thing (dj frank e remix) - talib kweli
4. Drivin me wild - common feat. lily allen
5. So amazing - termanology
6. Champion - kayne west
7. Champion freestyle - freeway
8. Ticket for 2 - ski beatz feat. camp lo
9. Say something (dj psycho remix) - talib kweli feat. jean grae
10. Gotta say it - smif-n-wessun
11. Eazy - aceyalone feat. jurassic 5
12. Body baby - pharoahe monch
13. Express yourself 08 - statik selecktah feat. termanology, talib kweli, & consequence
14. Work it out - q-tip
15. Work it out (dj frank e remix) - q-tip
16. You wont be around - rampage feat. craig mack
17. Old school jawn - bahamadia
18. Diss me - chino xl feat. snoop dogg
19. Listen (dj psycho remix) - talib kweli
20. Street capitalism - spoke in wordz
21. Mixtape shit - spoke in wordz
22. Surviving the times - nas
23. Ya dayz r #d - nygz feat. dj premier
24. Roc boys (and the winner is) - jay-z
25. Superstar - lupe fiasco
26. Body you - playalitical feat. supernatural & dj psycho
27. Go with us - talib kweli feat. phil da agony & strong arm steady
28. I came home - rhymefest
29. Rap down pat - feedback
30. Till i retire - pete rock
31. Be there - havoc
32. Cant help it - bingo
33. In love with you - planet asia
34. Hostel gospel part i - talib kweli
35. Pepsi thank youz - dj bedz

http://www.megaupload.com/?d=XGLWI6Y0
I have a mix of Raekwon joints by Rae's DJ,DJ Riddler.I'll try post links to the volumes one and two at a later date. I'm kinda rushing this post today and couldn't find links in time to include them in this post.
You can hear samples of this mix
HERE
DJ Riddler
Raekwon
House of Wax:
The Vatican Mixtape Vol III (2007)[137 MB]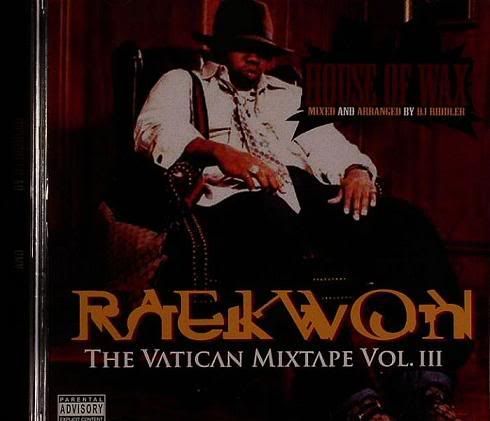 01. Raekwon - Intro
02. Raekwon - Musketeers of Pig Alley(feat. Inspectah Deck, and Masta Killa)
03. Raekwon - Make You Pay
04. Raekwon - Whores
05. Raekwon - Maxine (feat. Ghostface)
06. Raekwon - Brazil (feat. Ill Bill)
07. Raekwon - Clientele Kidd [Remix]
(feat. Ghostface, Polite, and Fat Joe]
08. Raekwon - Cocaine World
09. Raekwon - Musketeers of Pig Alley [Remix]
(feat. Inspectah Deck, and Masta Killa]
10. Raekwon - Gotta Have It (feat. Gravy & Brolic)
11. Raekwon - Asshole
12. Raekwon - White Castle
13. Raekwon - Go Home
14. Raekwon - Where You At
15. Raekwon - ABC (feat. Ghostface)
16. Raekwon - Da Destroyer
17. Raekwon - House of Wax
18. Raekwon - Enemy (feat. Ill Bill)
19. Raekwon - Get Me
20. Raekwon - Skit
21. Raekwon - I Recall (feat. Tek & Steele)
22. Raekwon - Weed
23. Raekwon - Dirt Dog [Skit]
24. Raekwon - King of Kings (Remix)
25. Raekwon - King of Kings
26. Raekwon - Die Hard [Skit]
27. Raekwon - Pulled Over
28. Raekwon - Skit
29. Raekwon - It's What It Is
30. Raekwon - Russian Cut
31. Raekwon - The Young Black

http://www.megaupload.com/?d=V935A244
Well that's it for this week. Enjoy your Labor Day weekend. Especially most of ya'll who
(unlike me)
have the holiday off