Originally Posted On:
May 19, 2008
This is for Abu Faisal:
The song you were looking for is
"Body Music" by The Strikers
---
Today I got for ya'll some
Rob swift
(
Ill Insanity
)! I got to say Rob is one of my favorite DJs. He's the total package:mixing,scratching,creativity. Rob has it all.Like Grandmaster Flash & Jam master Jay, I have learned alot from Rob Swift's mixes. Rob's creativity is one of things that sets he apart from other DJs Instead of making "mixtapes"
(a cd with little actual mixing and songs by people with very little talent you never heard of before)
he uses his creativity to take rare joints and mixes & scratches them in funky way. That's the sign of great DJ. Taking something never heard and flipping it into something funky and original.
If you like The X-ecutioners'
"X-Pressions"
then you'll love this as well.Some joints are straight scratch cuts and some are traditional Hip Hop songs with MC's.
Rob Swift
the Ablist [44 MB] (1999)


01. Dope on Plastic
02. What Would You Do
03. Night Time
04. Modern Day Music
05. Fusion Beats
06. Turntablist Anthem
07. I'm Leaving
08. All That Scratching is Making Me Rich
09. Musica Negra/Black Music Remix
10. Gangis Kahn
11. This Is Our Day
12. Something Different
13. The Ablist
14. Ben Fee The MC
15. Musica Negra/Black Music (Remix)
16. Gangis Kahn
17. This Is Our Day
18. The Will To Do Something Different
19. Something Different
20. Gangis Khan Returns
21. The Ablist


http://www.megaupload.com/?d=TXXOKM35
On this cd Rob mixes rare Soul,R & B,Jazz, and Funk grooves if you loved
"Soulful Fruit"
then you'll love this one.
Rob Swift
Under the Influence [61 MB] (2003)


1. There's a Storm in the Gulf - (with James Black/Sister Mary)
2. Hip Drop - (with The Explosions)
3. Humpty Bump - (with The Vibrettes)
4. Can I Be Your Main Squeeze - (with Chuck Carbo)
5. Love Is Good - (with C.L. Blast)
6. Soul Power - (with The Soul Powers)
7. Mercy D - (with Sam & The Soul Machine)
8. Hook and Sling, The - (with Eddie Bo)
9. One For the Treble - (with Davey DMX)
10. We're Gonna Need a Little Scratch (Fresh, Wild, Fly & Bold) - (with Charlie Chase)
11. Man Marley Marl, The - (with Marley Marl)
12. Scratch Attack 2 - (with DJ Quick)
13. 2.3 Break - (with DJ Klever/DJ Melo-D)
14. Lenu - (Sounds Of Summer remix, with Bobi Cespedes)
15. Rezos - (with Bobi Cespedes)

http://www.megaupload.com/?d=4CLCMFXP
Some old school funky joints, scratch cuts and DJ Routines from various NYC radios shows.Roc Raida & Mista Sinista make appearance on this CD.
Rob Swift
Airwave Invasion [80 MB] (2001)


01. Norman Connors - You Are My Starship
02. Freida Payne - Unhooked Generation
03. Hamilton Bohannon - Singing A Song For My Mother
04. Sweet Inspirations - You Roam When You Don't Get It At Home
05. 24 Karat Black - Ghetto: Misfortune's Wealth
06. Future Flavas Set #1 (Hot 97 with Pete Rock & Marley Marl)
07. Hamilton Bohannon - Save Their Souls
08. Oliver Sain - On The Hill
09. Future Flavas Set #2 (feat. Roc Raida)
10. Lowell Fulsom - Tramp
11. Interlude
12. X-ecutioners feat. Kool G. Rap & Big Pun - X-ecution Style
13. WNYU Set feat. Mista Sinista (89.1 with Mr. Mayhem & DJ Riz)
14. Norman Connors - The Creator Has A Master Plan (Peace)
15. Interlude
16. Pointer Sisters - Don't It Drive You Crazy
17. David Axelrod - Holy Thursday
18. Rob Swift - All That Scratching

http://www.megaupload.com/?d=XXYKEC5D
Here's what
Amazon.com
says about this cd:
The bulk of the CD revolves around one of the things Rob Swift is known for. His taste in rare grooves. It also contains excerpts of Rob Swift on the Halftime show with host Eclipse. The excerpts contain some cuts from Rob Swift's solo album "Sound Event" and a scratch routine he performed live on the air. DJ Precison also makes an appearance on this latest CD. Flexing his skill at beat juggling. Lastly, Rob Swift threw in an unreleased song called "Fraudulent Fakes" which features Eddegnz and Gudtyme.
Rob Swift
Who Sample This? [77 mb] (2003)


1. Intro
2. Queeens Lounge
3. 2 Minutes Of Soul
4. Shady Beats
5. Funk Time
6. Halftime Radio Show
7. Queeens Lounge 2
8. Rob Swift Meets Charlie Parker
9. Interview With A Colored Man
10. Slow it Down
11. Precision On the Cut (ft. DJ Precision)
12. Some Laidback Cool Sh*t
13. Bad Boy
14. Rude Boys
15. Some Max Out Sh*t
16. Fraudelent Fakes (ft.Eddegnz & Gudtyme)
17. The End

http://www.megaupload.com/?d=1UMMRP2J
---
Here's a mix by
Mista Sinista
and DJ Crossphader that's been floating around the net for awhile.I couldn't find a track listing but a) it's Mista Sinista b) it's large professor joints..nuff said.lol Anyway I did find out that it was made as a promo of Large Professor 2002 CD "1st Class" and contains clasic joints from Nas,Roxanne Shante,Common,Leaders of the New School, and of course Main Source.You can hear an audio stream here:
http://www.matadorrecords.com/large_professor/music.html
Mista Sinsta & DJ Crossphader
Large Professor Mix [68 MB](2002)
http://www.megaupload.com/?d=2HJWJ2JZ
---
I got this off Dirty Waters Blog (http://dirtywaters.blogspot.com). It's a radio appearance by
5th Platoon
members Neil Armstsrong,Kuttin Kandi,Daddy Dog, & Rholi Ro. Here's what Dirty Waters says about this mix:
"This tape is a clip from the group's appearance on a show I don't know much about called 'Over Your head radio' on WSOU 89.5 (Seton Hall University, East Orange New Jersey), I think they promoted this on a flier so I tuned in. You've got 4 members of the group here doing some dope beat juggling and scratching routines...

1)Neil Armstrong
2)Kuttin Kandi
3)Daddy Dog
4)Rholi Rho

-the tracks that follow their sets (Slick Rick, Beatnuts, DITC) are from a Stretch and Bobbito XL show I had on the same tape."
5th Platoon Live[24 MB]
http://www.zshare.net/audio/104520456df13923/
---
Two classic Neil Armstrong Mixes. Read the track listing and you know this sh*t is dope. Funny thing about Neil is I remember reading a quote of his in new hip hop magazine (too bad it doesn't exist anymore) called
"Subculture"
back in 96 or 97 where Neil stated he couldn't really mix he only knew how to scratch. Now some years later he produces some best mixes out there.
Neil Armstrong
Original [55 MB]


1. Mtume, Rappin' Duke - 'If U Don't Know Now You Know'
2. Jeff Lorber Fusion, Bahamadia - 'Crush On You'
3. El Debarge - 'One More Chance'
4. Lou Donaldson, The Roots - 'Another Chance'
5. Isley Brothers - 'Call Neil Big Poppa'
6. Isaac Hayes - 'Warning'
7. The Delphonics - 'Player Haters'
8. Slick Rick, Public Enemy, Busta Rhymes - 'Zulu Nation War Chant' (feat. Betty Wright / Mary Jane Girls)
9. Mark the 45 King, DJ Kool, Marva Whitney - '900 Number'
10. Aja - 'Whose In The House'
11. Taste Or Honey - 'Sad & Blue'
12. Dionne Warwick - 'Mona Lisa Says Goodbye'
13. Gloria Gaynor, Herb Alpert - 'Release Yo Delf'
14. Underdog There, Wu-Tang Clan - 'Nuthin To F*ck Wit'
15. Dr. Buzzard's Original Savannah Band - 'Cherchez Le (Neil)'
16. De La Soul, Aja - 'Eye Know'
17. De La Soul, Hall & Oates - 'Say No Go'
18. Leaders Of the New School, Boz Scaggs - 'Zone Coasting'
19. For The Bitties At Bobs Lounge, Joe Sample - 'W5PS'
20. De La Soul, Michael Jackson, Smokey Robinson - 'Breakdawn'
21. John Leguizamo, Al Green - 'Lets Stay Together'
22. Shalamar - 'For The Player In You'
23. Teddy Pendergrass, BUMS - 'The Door Is Closed'
24. Rick James - 'Mary Jane'
25. Gap Band - 'She's Outstanding'
26. Eric B. & Rakim, Marvin Gaye, Midnight Star - 'Got Me Curious'
27. Eric B. & Rakim, Aaliyah, Cecil Homes, Helix C. - 'It's Been A Long Time'
28. Surface, Kool G Rap, Nas - 'Happy'
29. AZ, Nas, Gap Band - 'Life's A Bitch'
30. Nas, Michael Jackson, Biz Markie - 'It Ain't Hard To Tell'
31. Biz Markie, Steve Miller Band - 'Nobody Beats The Biz'
32. Big Daddy Kane, Heatwave - 'Ain't No Half Steppin'
33. Brand Nubian, Edie Brickell - 'Slow It Down'
34. Queen, Vanilla Ice - 'The Vanilla Cometh'
35. Labi Siffre, Eminem - 'Slim Shady Reps'
36. Dr. Dre, Leon Haywood - 'The Next Episode'
37. Isley Brothers, Ice Cube - 'It's A Good Day'
38. Herb Alpert, Blacksheep - 'Flavor Of The Month'
39. Gang Starr, Public Enemy, Joe Simon - 'U Know My Steez'
40. Maynard Furgeson, Showbiz & AG - 'Next Level'
41. Grace Jones, LL Cool J - 'Doin' It Well'
42. ATCQ, Lou Reed - 'Cause I Can Kick It'
43. Fugees, Roberta Flack - 'Killing It Softly'
44. Heatwave, Nice & Smooth - 'Mindblowing'
45. Partridge Family, Nice & Smooth - 'Hip Hop Junkies'
46. Tracy Chapman, Nice & Smooth - 'Sometimes I Rhyme Slow'
47. Souls Of Mischief, Bobby Cobham - 'From Now Til Infinity'

http://rapidshare.com/files/47631133/DJ_Neil_Armstong-_Original.rar.html
Neil Armstrong
Original 2 [56 MB]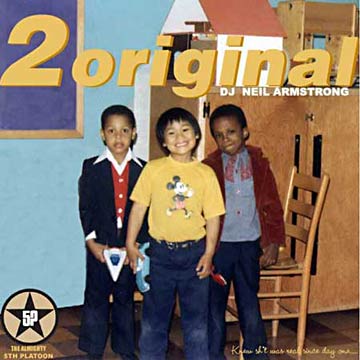 1. Diamond D, George Benson - 'Yo That's That Sh*t'
2. K.I.S.S. - 'Weather Report'
3. Billy Cobham, George Duke - 'Stunts, Blunts and Hip-Hop'
4. Jay-Z, Jeff Lorber - 'Who You Wit'
5. Four Tops, Tyrone Thomas - 'Ain't No N*gga'
6. Doors, David Bowie, KRS-One - 'Take Over'
7. Nas, Ahmad Jamal, T-La Rock - 'Whose World Is This'
8. Ras Kass, Anita Baker, Nas - 'Understandable Smooth'
9. Method Man, Marvin Gaye - 'You're All I Need'
10. Method Man, Hall & Oates - 'Interpolation'
11. M.O.P., Dells - 'How About Some Hardcore'
12. Foreigner - 'Cold As Ice'
13. Jay-Z, Bobby Byrd - 'You Don't Know'
14. Smif & Wesson, Grover Washington Jr. - 'Wreckonize'
15. Bobby Caldwell - 'What You Won't Do For Love'
16. Grand Puba, DeBarge - 'I Like It'
17. LL Cool J, Bernard Wright - '(Loungin) Who Do You Luv'
18. Bill Withers - 'Lovely Day'
19. AZ, DeBarge - 'Problems'
20. Common Sense, Bobby Caldwell - 'The Light'
21. Pharoah Monche, Wes Montgomery - 'The Light'
22. Steve Harvey, Kurtis Blow, KRS, Common, Nice & Smooth - 'Old School Intro'
23. KRS-One, Clifford Brown - 'MC's Act Like They Don't Know'
24. Common Sense, George Benson - 'I Used To Love Her'
25. David Axelrod, Nice & Smooth - 'Resurrection (Large Professor Remix)'
26. Ahmad Jamal - 'Resurrection'
27. Nas, Kurtis Blow, Whodini - 'If I Ruled The World'
28. Fugees, Teena Marie, Ramsey Lewis - 'Fugeela'
29. Delphonics - 'Ready Or Not'
30. Missy Elliot, Delphonics - 'Sock It To Me'
31. Camron, Police - 'What Means The World To You'
32. Rose Royce - 'Oh Boy'
33. Jay-Z, Annie(Broadway Play) - 'Hard Knock Life'
34. Company Flow, Flash Gordon (Soundtrack) - 'InfoKill'
35. Siah and Yeshua DaPoed, Grover Washington Jr. - 'Visualz'
36. Mr. Complex, Ramsey Lewis - 'Visualize'
37. Artifacts, Galt Macdermot's First Natural Hair Band - 'Come On Wit The Get Down'
38. Kool G. Rap, David Axelrod - 'Take Em To War'
39. Iemerge - 'Take Em To War (Quick Interlude)'
40. Das Efx, Norman Conners - 'Real Hip Hop'
41. Gang Starr, Bob James - '? Remainz'
42. Kwami, Bob James - 'The Rythm'
43. Biggie Smalls, R. Kelly - 'Unbelievable'
44. Carl Thomas, Chris Barber's Jazz Band - 'Faith/The Firm, Emotional/Phone Tap'
45. Biggie, Herb Alpert, Slick Rick - 'Hypnotize'
46. Slick Rick, CQ - 'Sittin In My Car'
47. Jeru, The Crusaders - 'The B*tches'
48. Pharcyde, Jimi Hendrix, Quincy Jones, Weather Report - 'Passing Me By'
49. Stan Getz - 'Runnin'
50. Large Professor, Milt Jackson - 'I Just Wanna Chill'
51. De La Soul, Milt Jackson - 'Dinninit'
52. Lalo Schifrin (Bruce Lee - Enter The Dragon Soundtrack) - 'Oooh'
53. Dilated Peoples, Joseph Koo/Wang Fu Ling - 'Work The Angles'
54. Tupac Shakur, DeBarge - 'I Ain't Mad At Ya'
55. Luniz, Club Nouveau - '5 On It'
56. Warren G, Mike McDonald - 'Regulate'
57. Snoop Dogg, Isaac Hayes - 'G'z Up Hoez Down'
58. Masta Ace - 'Last Rights'

http://rapidshare.com/files/47629332/neil_armstrong-2original-2002.rar.html
Got some early 2000's joints and classic on this one. DMC Champion I.Emerge makes appearance on this mix.
Neil Armstrong
Filthy [59 MB](2005)


01. Trends of Culture - Who Got My Back
02. Ja Rule, Fat Joe, Jada, Masta Ace, Nas, Indelibe MCs - New York Love
03. Company Flow - Vital Nerve
04. The Roots - Clones
05. Heltah Skeltah - Letha Brainz Bio
06. Rass Kass, Saafir, Xzibit - 3 Card Molly
07. Xzibit - What You See is What You Get
08. Dr. Dre - Still Dre
09. Wu Tang Clan - Can't It All Be So Simple
10. The Alchemist - Hold You Down
11. Slum Village - Players
12. Little Brother - Lovin' It
13. Jay-Z - A Million and One Questions
14. Pace Won - I Declare War
15. Saafir & Casual - That Bullshit
16. Casual - That's How It Is
17. BDP - South Bronx
18. Camp Lo - Black Nostalijack
19. Fearless Four - Rockin' It
20. Eric B. & Rakim - My Melody
21. Nas - Memory Lane
22. Mobb Deep - Shook Ones Part II
23. Wu Tang Clan - Tearz
24. Organized Konfusion - Maintain
25. Tribeca & Pharoahe Monch - The Life
26. Goodie Mobb - Cell Therapy
27. Smif-N-Wessun - Bucktown
28. Ice Cube - Jackin' for Beats
29. 50 Cent - How To Rob
30. Dead Prez - It's Bigger Than Hip-Hop
31. Game - Dreams
32. Damian Marley - Welcome to Jamrock
33. Sizzla, Bone Crusher, DJ Obsession - Solid As a Rock / Never Scared
34. Nas - You're The Man
35. Diamond D - I Went for Mine
36. Black Sheep - Flavor Of the Month
37. Talib Kweli - Get By
38. I. Emerge - Buggin
39. Unknown Track
40. Unknown Track
41. Unknown Track
42. Unknown Track
43. Unknown Track
44. Unknown Track
45. DJ Neil Armstrong - Bonus Track

http://sharebee.com/99c0e0b9


(12/25/08) New Link


http://www.badongo.com/file/8747200
Source:
Blak's Lair
I got some Roc Raida mixes coming on Monday. Plus since blogger.com has a new scheduled post feature where you save your posts and have them automatically posted on a certain date and time I decided to post on Thursday semi regularly now. NOT every Thursday but at least twice in month.