In 1995 Zephyr was dubbed "The elder-statesman of graffiti" by the New York Times. Andrew Witten aka Zephyr began his public art career in 1977 by surreptitiously painting New York City subway cars. In the early nineteen eighties he traveled the globe with fellow aerosol artists Dondi and Futura, spreading the graffiti doctrine worldwide. He is a veteran of New York's Fun Gallery, which also produced such art luminaries as Jean Michel Basquiat and Keith Haring. Currently, Zephyr divides his time between painting, drawing, writing and lecturing about various forms of modern art, with special attention to graffiti art. He is the author of "Style Master General" (HarperCollins, 1981) the biography of the late artist Dondi White.


By Jessica Cogan

In the 1960's, New York City commissioned artist Peter Max to trick out a fleet of city buses. His bold, psychedelic designs proved magical for at least one ten-year old waiting for the #10 cross town – that boy became legendary graffiti artist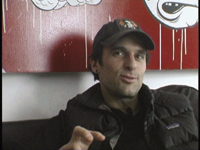 Zephyr. As he puts it, "When one of those tripped out buses pulled up at the curb, it was something so magical. Words don't convey the experience…and riding those buses had a huge impact on me."

Perhaps it was the democratic nature of public transportation that influenced Zephyr to take up graffiti, an art form accessible to all. "It feels free to me because it is. It's the art of the people. Anyone can do it. Everyone sees it," Zephyr mused in a recent interview with Trigger Magazine's publisher, Liberation Iannillo.

Graffiti exists, according to Zephyr, in contrast to most of the art world. "Art, and specifically the so-called 'art world' exist in an elite never-never land. Art in the west is presented as something for those who can afford the luxury of dallying in it…I am a purist, and I don't believe this is how things should be. Art needs to be for everyone. It has to be public….So I'm doing my part to change it, one graffiti piece at a time."

Zephyr is one of the best known names in the graffiti-writing world. His career began in the late 70's – just after the first wave of the guerilla art form. But in the fast-paced world of graffiti art, he and his young friends found that by the time they wanted to contribute, many of their idols' interests had shifted - some had even soured to the art form. "It was a complete mind-fuck, and it gave us pause. But only for a moment. We were already intoxicated with the act of writing, so we were not about to be put off." So Zephyr and his friends had to find their own way in a landscape just recently carved out. "I'd have to say that for me and some of my cohorts like Revolt, a major turning point was when we decided to leave the past behind and form our own writing crew, RTW (Rolling Thunder Writers)."



Zephyr's graffiti writing crew were focused on train painting and street tagging – activities that required stealth. "We fancied ourselves kind of sneaky and such. Of course, we really weren't sneaky at all, being that we were longhaired freaks. But that's another story…In the 70s, being a graffiti writer had no sex appeal and no commercial potential, and you did not tell anyone you were doing it. In many cases, not even our non-graffiti friends knew we did it, and sometimes not even our girlfriends (and certainly not our parents). The 'graffiti artist hero' thing is an 80's invention."
If it wasn't cool, it was at least peopled with interesting characters. While Zephyr collaborated briefly in the early 80's with renowned Lower East Side artist Jean-Michel Basquiat on a backdrop for a music video, it's their friendship that he best remembers. "The backdrop we did for Clem Burke's band The Colors was just a one-off thing, no big deal. But I have much fonder, older memories of him coming by my place on 89th Street back in the late 70's, with a 40 ounce Rheingold beer. We'd sit and talk and smoke joints and draw cartoons with Radiograph pens. Damn, I'm getting sentimental here, but those were some good times."
But things are different now for graffiti artists and the city that is their canvas. In Zephyr's view, New York has become "a place that's too expensive for its own inhabitants, designed by urban planners from other parts of the world for the inhabitation of people from other parts of the world. If you are part of this dying breed known as "native New Yorkers," this city no longer gives a rat's ass about you or what you think… but if you are a tourist from Kansas coming to New York, there's a bunch of Starbucks, Disney Stores and Imax theaters so now you'll feel right at home because it looks and feels just like the shitty mall in your town."
And the commercial aspects of graffiti art that began in the 80s continue even now. "In today's money-driven world, it's tough not to question the motivation behind some street artists… discovering that many of these artists have simply used the streets as a premeditated vehicle to get into the WWW (what I call the 'white-walled world') is tragic to me." But that's not enough to negate the beneficial aspects of graffiti: "We need more public art, so anyone working unsanctioned on the streets is welcome, and it's good news that they're out there, taking the risks and doing it, despite what their motivations might be."
Nowadays Zephyr writes and lectures about visual culture – advertising, tattooing, skateboard and surf culture, psychedelic art, album covers, comics and graffiti. He does some logo design, mostly for smaller independent companies. And he stays on top of his game with frequent "aerosol adventures" (in fact, he was out painting the night before this interview). Zephyr is also included in the New Museum's "East Village USA" exhibition which runs until March 19th of this year
[2005]
.
Despite some disappointment with the current scene, Zephyr argues that we're living in an important moment for graffiti. "I'm feeling that we are in the midst of a very strange and interesting seismic shift in terms of attitudes. As best as I can tell, the 'mainstreaming' of graffiti is having a fascinating effect…The bottom line is this: if the basic person on the street is starting to think of graffiti as less of a horrendous and dangerous assault on their person (which was the 80's mindset) and more as an accepted part of the visual matrix, for me as a graffiti writer, this is good news. Getting shot at by vigilantes was very unnerving."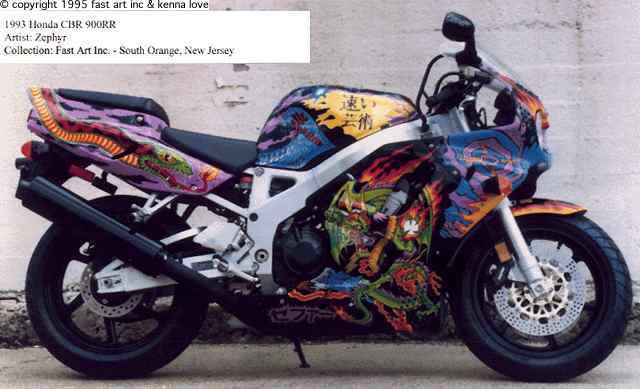 Interview with Zephyr
By Edward Morris
Zephyr was one of the pioneers of the New York subway graffiti movement from the late 70's to the early 80's. Today he has made a comeback to the scene, and proves himself, once again, a true graffiti legend. The following is an interview with Zephyr, given on his 34th birthday.
When did you start writing?
I started writing the name Zephyr in 1977. Before Zephyr I was writing "Kane," but the name most people knew me as was "Sky." I was playing around with graffiti for a few years before I ventured out to the playground to practice my tag on the metal part of the slides.
How did you get the name "Zephyr?"
From a brand of skateboards.
What first got you interested in graffiti?
Seeing it. Stitch and Snake, the kings of Broadway. The other Snake, Snake 131. All the original writers. Barbara 62, Eva 62, Michelle 62. When I was growing up I rode the trains and saw the graffiti. I have doodles as far back as '72-I was eleven-you can see I'm starting to play around with it. When I started I was doing "motion tags",hitting insides while the train's moving. "Bil-Rock," the writer who started RTW, was really into hitting trains. He was one of the guys who got me into going to the tunnels. Then "Mackie" got me into painting outsides. He really had to drag me, 'cause I wasn't interested in doing pieces. I was a tagger. When I first started piecing I really sucked, so it wasn't much fun. Besides, I figured in the time it took me to do a piece, I could do a lot more insides. Eventually I learned that to consider yourself a real writer you have to do outsides, you have to do insides, you have to do everything.
Which train lines did you paint?
I started on the Broadway #1 line. Once I exhausted that, I hit the RR's, the 6's, the 4's. When I hooked up with Dondi in 1980 I started hitting the 2's and 5's.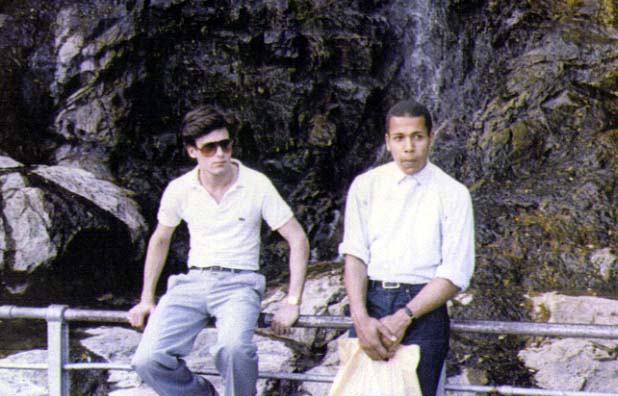 ZEPHYR & DONDI
Where have you done graffiti outside New York?
In the '80's I exhibited my graffiti canvases in Holland, France, England, Italy, Belgium, Germany, Switzerland. I also went with Dondi and Futura to Hong Kong in '82 and Japan in '83.
Was there graffiti in any of those cities when you first went there?
Hell no. The only place to see "New York style" graffiti back then was in New York.
What role did your going there influence the development of their "scenes?"
Everywhere we went the local kids heard about it and showed up. Then they created their own graffiti movements.
What do you see for the future?
Personally, I'm going to stay active until it's not fun for me anymore. As for the movement, the answer to that lies in the individuals involved. I just hope writers can rise above all the bullshit. In general, we're going to see more and more of the merger between graffiti and the internet.
Any parting comments?
I'd like to tell people to stay political, and never underestimate the importance of what you do. Graffiti is a critically important movement in modern history. Have an open mind to what other artists are doing...If you have respect for yourself, you should respect them too.


ZEPHYR GRAFFITI
FIELD MUSEUM
TRIGGER MAGAZINE



ZEPHYR WEBSITE:


ZEPHYR GRAFFITI.COM



~~~~~~~~~~~~~~~~~~~~~~~~~~~~~~~~~~~~~~~~~~~~~~~~~~~~~~~~~~~~~~~~~~~

BONUS:




For all you hip hoppers out there you might find these articles about Japanese Hip Hop a little interesting.

Raw Like Sushi:Hip Hop In Japan

History of The Hip Hop Dance Scene In Japan

Interview With Japanese Graf Writer GIGA ONE

And while reading about Japanese Hip Hop give a holla to the 1992 New Music Seminar 2nd Place Winner
& Producer Extraordinaire
DJ HONDA


Next Week:
Domeshots & Fat Laces Vol 29:
The "King" of Rap KURTIS BLOW