Originally posted on Feb 10, 2006 4:30 PM
DOMESHOTS & FAT LACES
Firstly I would say Rest in Peace to Jay Dee aka J Dilla. May Allah mercy be upon him.
I am posted this a day late because yesterday was the Islamic holiday of
Ashura.

The Prophet Muhammad (peace and blessings be upon him) said, "Fasting the day of `Ashura' (is of great merits), I hope that Allah will accept it as an expiation for (the sins committed in) the previous year." (Sahih Muslim)
So in keeping with tradition I fasted from sunrise to sunset and Allah willing he has accepted my fast and forgiven my sins.
Now today we have two profiles first the "back bone of the microphone" the chief rocker himself Busy Bee and second the Graf master Futura 2000.
BUSY BEE
Chief Rocker Busy Bee (David Parker)
first entered the hip hop in 1977. He earned his reputation and amassed a large following in early battles around New York, including winning the New Music Seminar's MC World Supremacy Belt in 1986. He was one of the first comedic Emcees , and he lived up to his title as Chief Rocker . He would always ask the crowd.." whats your zodiac sign ? " ," whats your favorite restaurant ? "..." if you love your mom say ho ".....things like that .These were techniques that all emcees used at the time , but Busy relied a little more on these than most other emcees . He was usually backed on the wheels by
Kool DJ AJ
...who later became the DJ for Kurtis Blow.
Charlie Ahearn, Kool DJ AJ, Busy Bee
A perfect display of his party starter techniques can be seen in the movie
Wild Style.
As one of the main characters, he is featured in a battle against
Lil' Rodney C of the Funky 4 + 1 and Double Trouble,
as well as at the show in the film's finale with DJ AJ. Be sure to check out the funky fresh suit he's wearing on stage at the amphitheatre. Busy Bee was once a member of the Fantastic 5 Emcees.
He was also involved in one of the most infamous battles in history against Kool Moe Dee at the legendary
Harlem World New Years Battle
where he ripped Busy a new one. Actually there were two battles.....the first was a tie and Moe Dee ; who still has the trophy won the second one. Copies of this battle have been traded around for last twenty years.
He made a record in1980 called
"Rappin' All Over"
as a member of the
Marvelous Three
(which included DJ Smalls and AJ (later AJ Scratch- Kurtis Blow's DJ).
He had an early 12" pre-Sugarhill Records was
"School days"
in 1980. On Sugar Hill Records he made
"Making Cash Money"
in 1981 and
"Busy Bee's Groove"
in 1984. His biggest record to date is
"Suicide"
in 1987 which was produced by Jazzy Jay and appeared on Strong City.
He did release two albums (
"Running Thangs"
in 1988 and
"Thank God for Busy Bee"
), but his work on the Wild Style soundtrack is widely considered his most memorable recordings as well as some featured tracks on the Sugar Hill box set.
He also performed on the
Raiders Of The Lost Art LP
and
Funkmaster Flex Mixtape Vol 3
. Most recently he appeared on De La Souls
" Art Official Intellegence " LP.
He's also a member of Afrika Bambaataa's
Zulu Nation.
Source:
OldschoolHip Hop.com
and
Jayquan.com
~~~~~~~~~~~~~~~~~~~~~~~~~~~~~~~~~~~~~~~~~~~~~~~~~~~~~~~~~~~~~~~~~~~~
FUTURA 2000
Futura 2000 started his career as a New York graffiti artist in 1970. But it wasn't until the 1980s that graffiti (as well as the hip hop lifestyle) came to the surface for the mainstream public to appreciate.
Writing on train cars and subways or "bombing" as it is called, was where Futura 2000 first showcased his talent. However, it wasn't long before canvas graffiti art pieces found their way into exhibitions and galleries. The next platform for Futura 2000's work was the UK Record Label MoWax which was run in part by James Lavelle, whom Futura 2000 met up with in 1992. Since then, Futura 2000's work has appeared on many album covers including the U.N.K.L.E album
1) WHERE WERE YOU FROM AND WHEN DID YOU START WRITING ?
I am from New York City (Manhattan) born in Bellevue Hospital (1955). I started writing when I was fifteen years old. it was of course the early 70's.
2) WHO WHERE THE WRITERS IN THE EARLY YEARS THAT INSPIRED YOU?
The writers from Broadway. SNAKE, CAT 87, STITCH I, COCO-144 and OTHERS outside of Broadway were EL MARKO 174 - (from the Bronx) , PHASE 2, FLINT .. - (from Brooklyn) , and certainly STAY HIGH 149.
3) WHO WHERE THE FIRST WRITERS YOU WOULD MEET UP WITH AND HOW DID THE SOUL ARTISTS COME ABOUT?
Marc Edmonds AKA (ALI) was my lifelong friend and the creator of the (Soul Artists). I was always a co-pilot in those days.
we were just a bunch of guys looking for an introduction into the graffiti movement."Futura was one of those artists — and they were very, very rare — who had the original style to evolve beyond graffiti,most graffiti artists are really folk artists. Futura did a train that was totally abstract art. And he had the most beautiful tag of anybody,It defined the seriousness of what a tag meant."

Charlie Ahearn
4) WHAT TRAIN LINE DID YOU FOCUS MOST ON AND WITH WHOM?
The No. 1 Broadway Local. which would change with the No. 3. the (one) tunnel. the layups and elevated platforms these lines provided. the abandoned stations, and the easy access to vast yards of sprawling mass transit. I did most of my "getting up" alone. I was always worried about (them) doing something stupid. for dangerous missions, I (rolled) solo.
5) COULD YOU NAME OTHER WRITING GROUPS YOU WERE A MEMBER OF .
Sure I could. 3YB, CIA, FBI, Interpol and the KGB.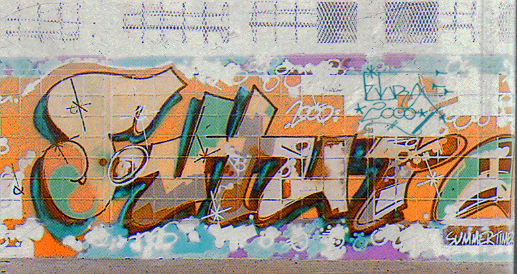 6)DID YOU EVER HAVE ANY PROBLEMS WITH OTHER WRITERS GOING OVER YOUR WORK? AND HOW DID IT COME ABOUT .
I think we all have. but that's part of the history and tradition of the culture, for better or worse
these elements will always attempt to provoke negative responses. We shouldn't let that happen.
The (minor) beef I have had throughout the years has been exactly that.
7) WHAT DO YOU FEEL WAS THE BEST CAR YOU EVER DID AND WHEN WAS THE LAST TIME YOU PAINTED A TRAIN.
I would have to say that the abstract whole-car of 1980 was by best work on trains. as a writer from the (tagging) period, not the (stylized) artistic one, it was quite a leap of creative possibilites for me.
8) IN WHAT DERECTION IS YOUR ART TAKING YOU NOW?
There is no direction to my direction. I am as I continue to be, open to all transitions in the process.
9) ANY CLOSING WORDS?
....."The event is the journey, not the destination. because we all know what that is

source:
Subwayoutlaws.com
,
Beastiemania.com
and Nograffiti.com
BONUS:
Here's a link to hear a sample of a mixtape I never finished called

"All Things Considered".
I recorded it old school style on a 4 track and with two belt driven turntables
[I didn't have 1200's then]
so the sound quality nor the scratchin'
[belt driven tt got no fuckin' torque]
isn't great and there are a lot of mistakes but all in all you will get a sense of my style. So until next week...
Next Week: Crazy Legs from the Rock Steady Crew